Ark House Volunteers Needed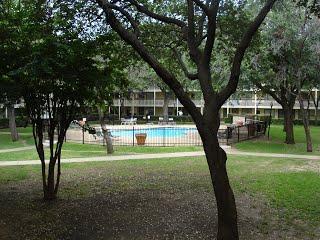 For over 35 years, Ark House has been serving the housing needs of patients and/or their families while the patient is required to stay in Dallas for ongoing health care. These stays range from seven days to over a year. Our goal is to provide a safe, clean, and home-like environment for convalescence. We currently manage and maintain our apartments with an all-volunteer staff. That's where "you" come in … keeping Ark House going is a big job, but many hands make for light work. We usually have jobs available with varying levels of commitment. Please consider volunteering with Ark House to help us help others.
 As an all-volunteer organization, ARK HOUSE has many needs for those who want to make a difference in our residents' lives. Below is a list of several opportunities.  While many of these are currently filled, these roles would benefit from fresh eyes and depth. For more information or questions contact Caren Houston (972-231-6450). 
Chair Elect — A one year position providing on-the-job training to assume a two-year term as Chair. Performs the duties of Chair when necessary.
Treasurer — Maintains the finacial records for Ark House using QuickBooks. Prepares annual budget for next period and provides analysis of performance to budget. Participates in quarterly finacial reviews to assure Ark House is financially sound.
Fundraising Team Member — Contacts foundations, hospitals, and other institutions to create awareness of the Ark House mission and seek monetary donations. 
Occupancy Team — The occupancy role serves as the primary interface with the referral sources and potential occupants. Occupancy primarily works with the potential occupants to collect the information required to qualify for an ARK HOUSE apartment. This position can be a individual or couple and is designed to rotate 1 month on with 1 or 2 months off. Some familiarity with Excel, Access, and emailing is necessary.
Technical Support — Oversees the technical resources and systems used by Ark House Volunteers. Familiarity with MS Office applications, including Access; MS SQL; WordPress web site editing; and Cloud file sharing would be very  advantageous.  
Accounts Receivable — Performs the weekly billing (credit card charges) for occupied apartments. Tracks payments and reports monthly to Treasurer and Board on A/R status and payments.
Apartment Checker Team — Visits each apartment on a weekly basis to check on residents and the apartment. This is a team position (2 people per team) that rotates every month. 1 month on 2 months off. 
Rent Ready Team — Ark House has 16 apartments at Royal Lane and Central with an average turn-over of two per week. When a apartment is vacated, this team goes to the apartments to confirm the apartment is "rent ready". It normally takes about an hour per apartment. including some light cleaning, and can normally be done at your convenience. In unusually busy times, there may be some urgency requiring coordination among team members.  This is a team position (1 or 2 people per team) that rotates every month. The goal is 1 month on 2 months off. 
Ark House
Subscribe to Ark House Communications
Email:
Info@ArkHouseDallas.org
Occupancy Phone:
(972) 671-7144
Facebook: @ArkHouseDallas

Ark House Foundation

The Ark House Foundation is an independent 501(c)(3) charitable organization organized to provide operating funds for Ark House to support low cost housing for those undergoing long-term medical care in Dallas with no local residence. Donations to the Foundation are tax deductible to extent allowed by tax law. EIN: 75-2738896
Postal Address:
P.O. Box 833656
Richardson, TX 75082-3656