Who Qualifies for Ark House?
Low cost,

temporary

housing is needed to facilitate receiving active medical care at a Dallas area hospital for a prolonged and serious illness
Permanent home is a minimum of fifty miles from Dallas (some flexibility)
Referral from a social worker
Ark House allowed to verify your continued care in a local medical facility
You have funds to meet rent payments
Initial stays are 7 to 90 days. After the seven (7) day minimum stay, a phone call or text/email to Ark House reporting your departure will terminate the rent payments.
Costs:
Effective July 16, 2019, the cost is $196.00 per week ($28.00 per night) auto-paid weekly by credit or debit card. on Friday's
After the initial seven (7) day minimum stay, refunds are made for any unused days (Minimum rent payment $196.00).

A $100.00 security deposit is required. The deposit will be refunded if the instructions in the "Going Home" section in the apartment notebook are followed.

Move in cost is $296.00 (Security deposit plus one week rent in advance)
A background check is required for each occupant age 18 or older. The applicant pays $20.00 

(non-refundable)

for the patient's background check. This is due

at the time the application is submitted. 

Ark House will pay for background checks for additional occupants on the initial application. 
Apartment Description: 

Ark House units are part of a mid-sized gated apartment complex with on-site maintenance and amenities including a swimming pool, exercise room, gated parking, and on-site laundry facilities. A shopping center with grocery store and restaurants is nearby. Public bus service is available at the apartment entrance.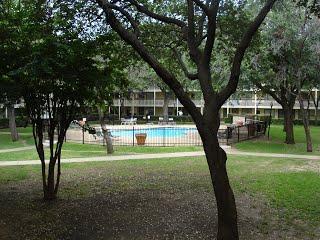 Each apartment has: 
Furnished living room
Furnished dining area
Fully equipped kitchen including microwave, dishwasher. cooking, utensils, coffee maker and toaster
Bathroom with bathtub and shower and linens. (tub is not handicap
accessible)
Bedroom with two twin beds, sheets, blankets and pillows
Queen size sleeper sofa with sheets, blankets and pillows
43″ HD TV with streaming channels 
High speed WiFi & wired internet
Typical Ark House Apartment Layout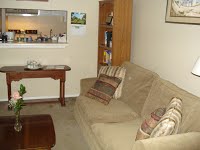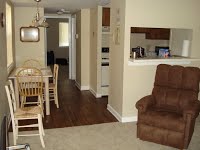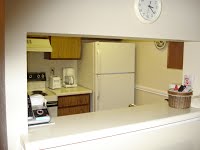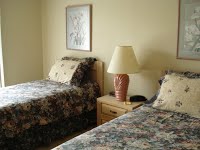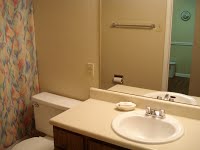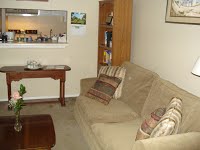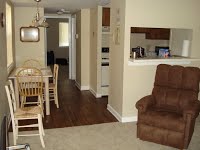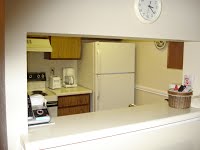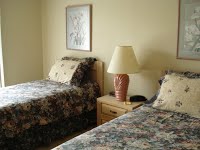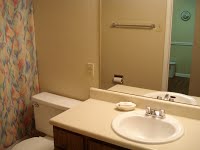 How You Will Know if An Apartment is Available for You? 
 The social worker will verify your need for low-cost housing and must submit a referral to an Ark House Occupancy volunteer.
You will be contacted to confirm your desire to be considered for an apartment
You will be asked to fill out an application
A criminal history check will performed
You will be informed if there is any issue with the application or criminal history check
When an apartment is available, an Ark House volunteer will contact you and provide the necessary directions and instructions.
While apartments are normally available, if an apartment is not available, you remain on the wait list pending availability 
 Location of Ark House: 
 Ark House is part of an apartment complex located in North Dallas near Royal Lane and US Highway 75 (North Central Expressway). You will receive specific instructions on locating the apartment when an apartment is available for you. 
 
Travel time to various hospitals depends on traffic conditions, but averages between ten and thirty minutes.
Access by public transportation – Dallas Area Rapid Transit (DART) is a combination of buses and trains that provide access to primary Dallas area hospitals including: Medical City, Baylor, Presbyterian, UT Southwestern, and Parkland. A bus stop is located at the apartment complex providing access to the DART train system. An all-day pass is available for $6.00 ($3.00 in special cases.

Services Nearby:

G

roceries .25 miles

Restaurants .25 miles
Pharmacy .25 miles
Post box .25 miles
Post office 1.5 miles
Shopping mall 2.2 miles
Last Modified: Nov 21, 2022 @ 3:47 pm 
Ark House
Subscribe to Ark House Communications
Email:
Info@ArkHouseDallas.org
Occupancy Phone:
(972) 671-7144
Facebook: @ArkHouseDallas

Ark House Foundation

The Ark House Foundation is an independent 501(c)(3) charitable organization organized to provide operating funds for Ark House to support low cost housing for those undergoing long-term medical care in Dallas with no local residence. Donations to the Foundation are tax deductible to extent allowed by tax law. EIN: 75-2738896
Postal Address:
P.O. Box 833656
Richardson, TX 75082-3656